Are you a web hosting newbie looking to take control of your website? Or a veteran website owner who just needs a refresher on how to access your control panel? We'll provide you with a step-by-step guide on how to access the web hosting control panel in no time.
For those of you unfamiliar with the concept, the web hosting control panel is an admin dashboard where you can manage all aspects of your website, such as domains, files, and databases. It's essentially your gateway to website management nirvana.
Sounds cool? Let's get started by teaching you where to look for and how to access the web hosting control panel.
What Is a Control Panel and Why Do We Need It?
You've just bought a web hosting account, and you're eager to launch your website. But before you can do that, you'll need to access the hosting control panel. What is a control panel, and why do we need it?
A control panel is a powerful tool that allows users to manage their hosting accounts with ease. It provides an easy-to-use and intuitive graphical interface, so you don't need any technical experience to use it. With the control panel, you can carry out a number of tasks such as setting up emails, managing databases, configuring applications and more – all without ever needing to learn how to code or write scripts.
Using the control panel also saves you time when managing your web hosting account as it simplifies complex tasks into easy steps. The control panel also streamlines account maintenance such as file transfers, backups or password updates. In short, the hosting control panel is essential in making sure that your site runs smoothly and efficiently.
How to Log Into Your Hosting Account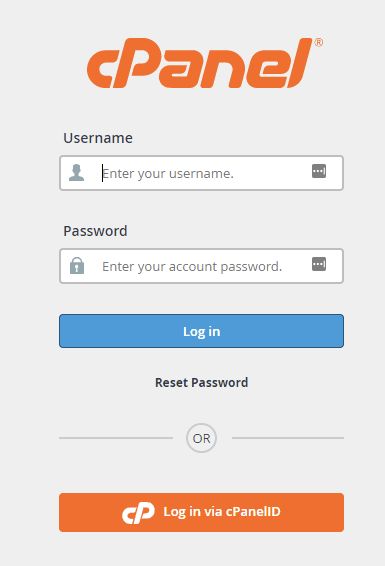 The second step to accessing the web hosting control panel is to log into your hosting account. Most hosting providers will require you to enter in an email address or a user name, as well as a password. You may also be required to enter an additional two-factor authentication code.
Once you have entered all of the required information, you will be logged into your web hosting account. From there, you can navigate through the various menus and options that are available in the control panel. Look for the section labeled "Domains" or something similar—this is usually where you will find the option to manage your website's domain name and settings.
You may also see options for managing databases, email accounts, and other services offered by your web host. Additionally, most control panels allow you to access logs which provide performance reports on your website and server as well as additional information about visits and other activity.
By logging into your hosting account and navigating through the control panel, you can easily manage all of the details related to running and maintaining a website.
Accessing Your cPanel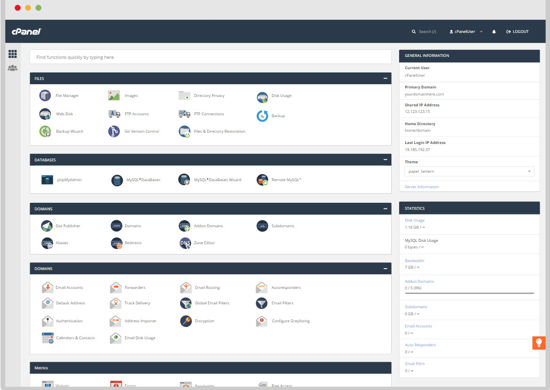 Once you have your login credentials at-hand, you're ready to access your web hosting control panel. To do this, simply follow these steps:
Head to your chosen web host's URL (or domain).
Enter your username and password when prompted.
On the homepage of the control panel, you'll be able to view different tabs and options that allow you to manage various aspects of your website's hosting.
The cPanel (control panel) homepage should have a few key common elements such as File Manager, MySQL Database, Domains and Security Options.
To access domains, click on the link in the left-hand menu or the Domains icon on the cPanel homepage. Here you can add new domains, manage subdomains and set up domain-based email addresses for each domain.
Once you are comfortable managing domains in cPanel, try exploring other features such as setting up email accounts, creating databases and managing files through the File Manager tab.
Exploring the cPanel Features
Once you are logged in to the cPanel, it's time to explore all the features. There are many available, but here are a few of the most important ones:
File Manager
The File Manager helps you manage all your files and folders, such as those related to your website. You can also upload files or download them directly from the file manager.
Email Accounts
With cPanel, you can easily create and manage email accounts associated with your domain. You have full control over everything, including setting up forwarding rules, autoresponders and more.
Backup and Restore
The Backup and Restore feature allows you to back up your entire website and restore it in case something goes wrong. This is great for peace of mind when dealing with critical data.
Security Settings
The Security Settings tab is where you can set up two-factor authentication for added security, as well as manage permissions for certain parts of your site. It's also helpful for banning certain IP addresses from accessing your site if need be.
cPanel provides access to many features that make managing web hosting easier than ever before. Exploring each one will help ensure that your website runs smoothly and safely so that everyone can enjoy it!
Customizing the Control Panel Settings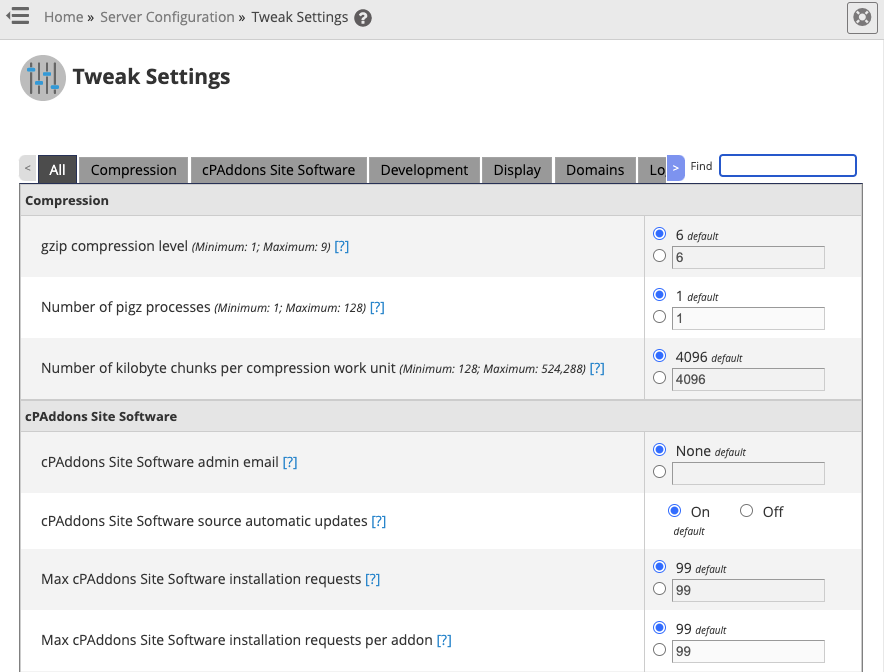 You can customize the control panel to your liking, making sure that everything looks and functions the way you need it. Here's how:
Log into your account. This is typically done through the website of your hosting provider or by using a tool like cPanel or Plesk.
Once you are logged in, you should be able to access the control panel, either directly from your homepage or by going to a settings page.
From the control panel, you can then customize various settings like adding domains, managing databases, etc.
Finally, save your changes and you're all done!
By customizing your control panel settings according to your preferences, you can make sure that everything is functioning properly and that all information is securely stored and accessible when needed. Plus, customizing settings can save time since you won't have to manually search for specific files or settings each time you log into the account—it will all be right there whenever you need it!
Keeping Your Account Secure
Security is a big concern when it comes to accessing your web hosting control panel. If you're going to be accessing the control panel, you'll want to make sure that you're taking all the necessary steps to keep your account secure.
Here are a few tips for keeping your web hosting account secure:
Make sure that you are using a strong and unique password. This means no using the same password for multiple accounts or keeping easy-to-guess passwords.
Use two-factor authentication (2FA) whenever possible. This adds an extra layer of security by requiring an additional code or answer for authentication.
Enable HTTPS encryption if available. This makes it more difficult for attackers to intercept any data sent to or from your host's servers.
Monitor your usage logs frequently and look for any suspicious activity that could be a sign of malicious activity on your account.
By following these tips and steps, you can help ensure that your web hosting account is as secure as possible so that no one can gain access without authorization.
FAQs
Here are some FAQs about accessing the web hosting control panel.
Q:Can I access the web hosting control panel without having administrative rights?
Yes, most hosting control panels can be accessed without having administrative rights. However, there may be certain features you won't be able to use or functions you won't have access to.
Q:Is the web hosting control panel secure?
Yes, the web hosting control panel is secure and encrypted. All information is stored in an encrypted format, making it virtually impossible for hackers to gain access to your account or data.
Q:What types of files can I upload through the web hosting control panel?
You can upload a variety of files through the web hosting control panel, such as HTML, CSS and JavaScript files, as well as images and videos.
Q:Does the web hosting control panel come with backup services?
Yes, most web hosting providers offer automated backup services that can be accessed through their control panels. These services make it easy to create backups of your website and restore them if needed.
Conclusion
In sum, accessing the Web Hosting Control Panel can be a little daunting at first, but with the right guidance it's really not so hard. All you need to do is log in to your hosting account, locate your cPanel link, and then follow the steps outlined in the guide to gain access. Once you're familiar with the jargon, you'll be able to navigate around the panel with ease and make all the necessary changes to your hosting account quickly and easily. So don't be put off – get stuck in and start exploring the world of web hosting!